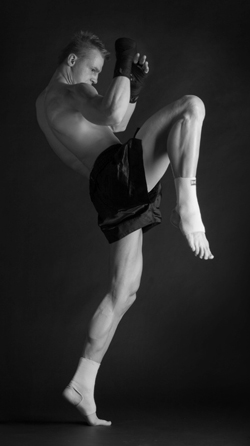 Muay Thai is internationally considered the most aggressive and powerful kickboxing sport. Known as "The Science of Eight Limbs," Thai Boxing is the national sport of Thailand, producing numerous national and international champions not only in Muay Thai, but also Kickboxing and Boxing as well.
At DMA, we offer personal development and self-expression in Muay Thai by way of:
* Expert instruction from certified TBA Instructors
* Challenging workouts that let you punch & kick stress away!
* Learn the fundamentals of Striking, Clinching, Footwork and Distance
* Gain Better Coordination, Balance, Speed & Timing
* Achieve ranking in Muay Thai under DMA & the TBA!

Thai training methods develop devastating power, speed, and superb cardiovascular endurance, as well as a "Never Give Up" fighting spirit. Muay Thai training is also quite safe thanks to sophisticated pad training that evolved to keep fighters healthy between fights. "Nak Muay" (Thaiboxers) use punches, kicks, elbows, and knees in combinations, along with clinches and throws, to create a devastating arsenal of fighting tools. Muay Thai has also proven very effective outside the ring and has been embraced enthusiastically by practitioners of a variety of self-defense, sporting, military, and law enforcement activities.
DMA classes feature education and training of Muay Thai, along with a superb conditioning workout regardless of your level!
Men and Women, learn to defend yourselves through the training of Muay Thai!
We are proud to represent the Thai Boxing Association of the United States of America (TBA) and Ajarn Surachai "Chai" Sirisute, the Father of American Thai Boxing.