Steve McQueen. There are very few names in the history of American icons that are so firmly attached to adjectives such as rebellious, cavalier, daring... However, more than anything else, Steve McQueen embodies the one word reserved for men the likes of James Dean, Sean Connery and Clint Eastwood.
And he's the king of them all; Steve McQueen is The King of Cool.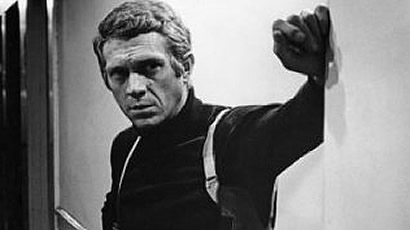 A street-gang member by the age of nine due to leaving an abusive household, McQueen then joined the circus at age 14. After returning home, Steve was sent to reform school, which he left when he was just 16 to accompany a couple of Merchant Marines he'd recently met to serve on a ship bound for the Dominican Republic. From there he became a nomad in Texas, holding various jobs until he joined the Marine Corps, saving the lives of five other Marines in a training exercise and briefly guarded President Harry Truman before his honorable discharge.
This was all before becoming an Academy Award nominated actor, sometimes stuntman, accomplished off-road motorcycle racer, race car driver (finishing second overall in the 1970 12 Hours of Sebring behind Mario Andretti), pilot and personal friend of another American icon of cool, Bruce Lee.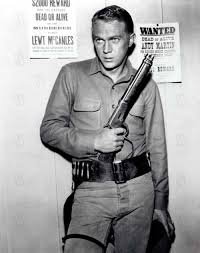 From the moment he became a household name in 1958 for depicting bounty hunter Josh Randall on the TV series Wanted: Dead or Alive to co-starring in The Magnificent Seven - which catapulted his career into superstardom - to his arguably most famous role of all in Bullitt, those who knew him best had a hard time figuring out if Steve was depicting his characters, or if his characters where a depiction of him.
Throughout his years in Hollywood, Steve developed a relationship with Jeet Kune Do Master Bruce Lee that often appeared unconventional to those on the outside. From within the boundaries of the intimate conversations held on movie sets around the world where Steve would fly Bruce in to visit, the relationship was one of intimate trust, close friendship, and a shared love for philosophy, deep introspection and a view of the world for what it was.
The relationship between McQueen and Lee ran deeper than most of Master Lee's relationships with his students. Though he made upwards of $100 an hour and more for private lessons with many of the other well-known celebrities of the time who sought his tutelage - James Coburn, Kareem Abdul-Jabbar and George Lazenby, to name a few - Bruce taught Steve martial arts, and in exchange, Steve gave Bruce insight into acting and how to be a success on the silver screen, meanwhile sharing their philosophies on life.
"He [Bruce Lee] and I used to have great, long discussions about that," said Steve, "because no matter how expensive a car your buy, how many expensive clothes, no matter what you do in life - if you don't know yourself, you're never going to appreciate anything in life. Bruce was very much into that. I think he was very much a part of today's psychotherapy. I imagine he used the martial arts as an extension of himself. But he also knew himself in every day life."
"I teach Steve Jeet Kune Do and he gives me advice on acting," Bruce said of their unique relationship. "No, he doesn't try to convert me to his style. He believes that each actor must create his own style. You can't learn that from anyone."
Lee also admired Steve's great work ethic and his inherent toughness which he applied to his training with Master Lee.
"Now as a fighter, Steve, Steve McQueen, now he is good in that department because that son of a gun got the toughness, I mean, he would say, 'alright baby, here I am,' and man, he would do it," Lee said in a rare interview.
The relationship ran so deep, Steve often attempted to extend the famous generosity he poured upon those he loved by once offering to buy Bruce a house and a new Porsche on a separate occasion, both of which were politely declined by Bruce, though he was greatly appreciative and humbly affected by the offers. Bruce returned the favor by often being the guiding voice for Steve when he most needed it, yet least expected it.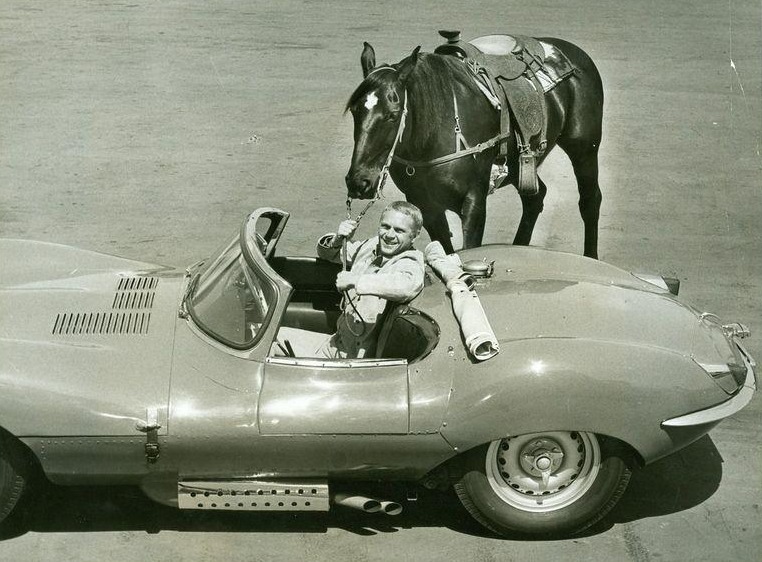 "Sometimes I'd feel rotten and the phone would ring," McQueen narrated, "and it would be Bruce Lee. I don't know why he'd call, but he'd say, 'I just thought I should call you.' Now this happened four or five times. How do you explain that?"
Their prolific and obscure relationship was so great, that upon the death of Master Lee, Steve McQueen sloughed his disdain for funerals to travel to Seattle to perform the duties as one of Master Lee's pallbearers.
"I care about Bruce and I think it's going to be a great loss," McQueen said. "I feel very bad about it. He was a wonderful guy."
"I felt like saying goodbye to a friend."
Though Steve McQueen was taken by illness due to exposure to Asbestos at age 50, still in his acting prime, his legacy lives on. Often remembered as the anti-hero on screen, those close remember his exceptional philanthropy. Donal Logue sums up best how most of America remembers Steve McQueen in The Tao of Steve:
"Steve is the prototypical cool American male. He's the guy on his horse, the guy alone. He has his own code of honor, his own code of ethics, his own rules of living. He never, ever tries to impress the women, but he always gets the girl."